Ether Dream
The Ether Dream is an extensible laser DAC. It supports Ethernet, USB, microSD, and ILDA, and has a set of headers for future expansion. The firmware, protocol, and driver are all modular and open.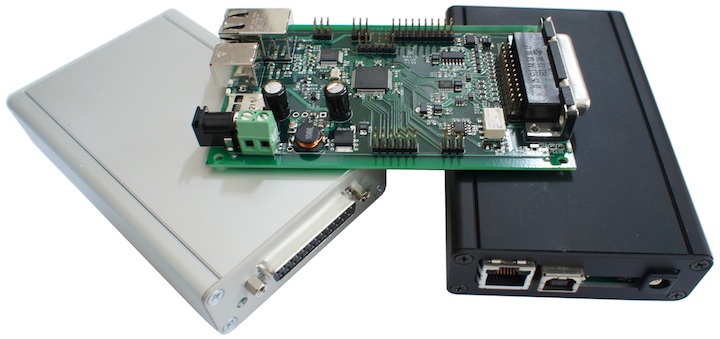 Features
Streaming playback over 100M Ethernet at up to 100kpps
Multi-interface driver library: supports LSX, ILD SOS, LFI Player, and any software compatible with EzAudDac
Onboard geometric (perspective) correction, color blanking, and color offset/gain correction
Playback of ILDA and WAV files from SD card at up to 60kpps
All features can be controlled with the standard OSC protocol
ILDA output: balanced X/Y, single-ended R/G/B/I/U1/U2, all 12-bit, plus TTL shutter and controllable interlock
Easy firmware updates over USB
Power supply: 8V to 25V DC, via screw terminals or standard 5.5mm jack
Made in California, USA
Order
Ether Dream is currently in production. The firmware and driver now work with LSX, ILD SOS, and LFI Player. Development is still ongoing, and new firmware updates are posted regularly.
Ether Dreams are back in stock and available from Illumination Supply and Innolasers.